| | |
| --- | --- |
| Leonardo | 11-18-2008 09:16 AM |
---
Elevation Church, Crissy Moran, and the Brainwashing of Christendom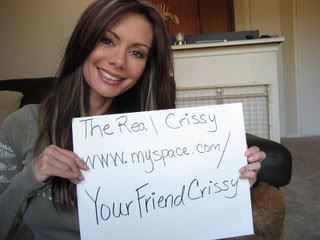 I have a new conspiracy theory. Actually not so much a conspiracy theory, but simply a look at the move of the Porn Weapon upon Christendom.
I'll have more to say about this from time to time as I keep watch on it.
Right now, I'm reviewing the basic tenants of the Elevation Church in Las Vegas. And especially so called 'Christian' films by supposed 'ex' porn stars like Crissy Moran.
I have a hunch that there is Illuminati activity at the roots of movements like these.
Here's a short trailor from the new film overexposed. And I for one am going to try to make certain that Crissy Moran and Elevation Church indeed become overexposed.
Here is what her myspace official site stated concerning the film.
"The short film is a modern day adaptation of the Hosea story from the Bible in which a prophet is told by God to marry a prostitute. In this case, however, it is a pastor that marries a Vegas stripper (played by Moran). It's a film about grace and redemption."
Well, isn't that just sweet.
But what's really going on here is the question I pose.