http://images.google.com.au/imgres?imgurl=http://www.famsi.org/research/pohl/sites/fig_44.jpg&imgrefurl=http://www.famsi.org/research/pohl/sites/tula.html&h=1188&w=1566&sz=819&hl=en&sig2=uZinYDaU Cr9FBAP2_usdLw&start=75&tbnid=g1rrmYMfxeotNM:&tbnh =114&tbnw=150&ei=Ef0sRZu6McakJa6u5KMN&prev=/images%3Fq%3Daztec%2Bartifacts%26start%3D60%26ndsp %3D20%26svnum%3D10%26hl%3Den%26lr%3D%26client%3Dfi refox-a%26rls%3Dorg.mozilla:en-US
fficial%26sa%3DN
FACES OF MESOAMERICA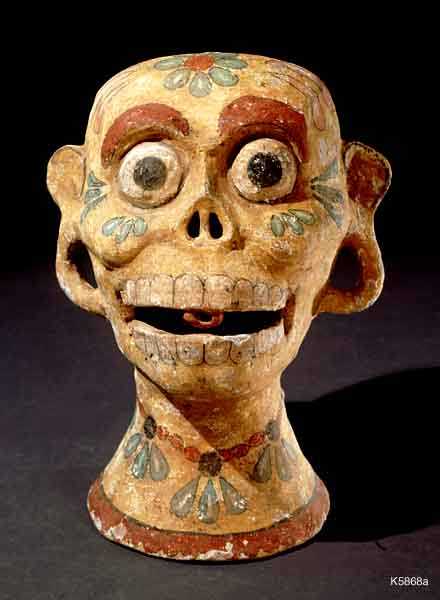 K 5868a - Aztec/Mixtec Drum
Aztec/Mixtec. clay, stucco paint. height 22.9 cm. Drum in the form of a skull with whistle in mouth. The reverse has an image of Mictlantecuhtli painted in red. To view image of reverse, click here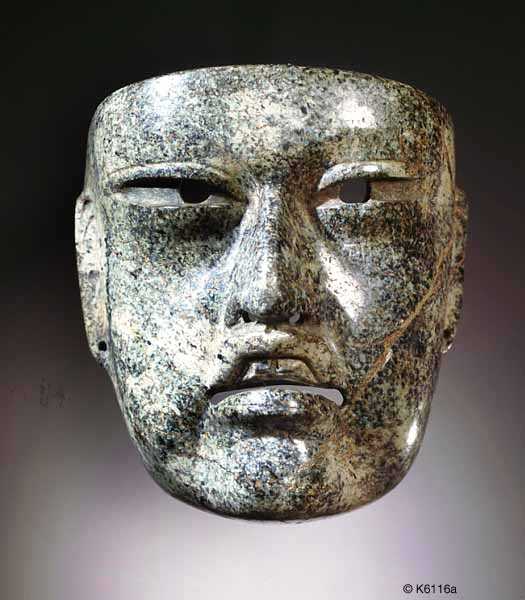 K 6116a - Olmec Mask
Olmec. stone. height 17.8 cm Rio Pesquero. Portrait mask. Published The Olmec World page 271. For another view of this mask, click here.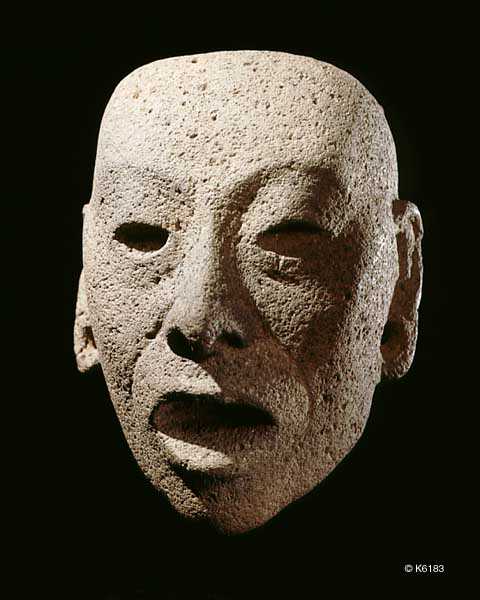 K 6183 - Maya Stone portrait
Maya. stone. height 20.3 cm. Portrait head. May represent decapitated head of a captive.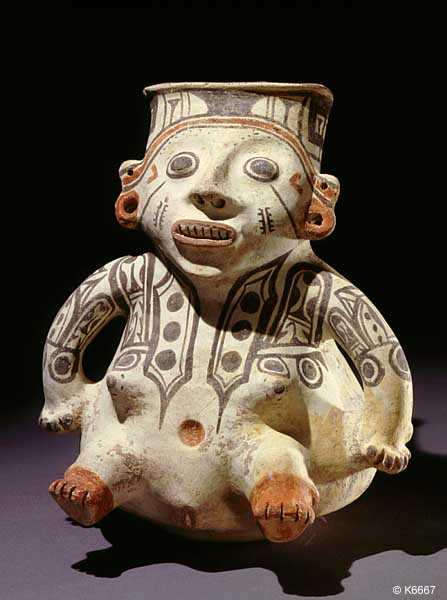 K 6667 - Huastec Figure
Veracruz. Huastec. painted clay. height 27.4 cm. Seated figure.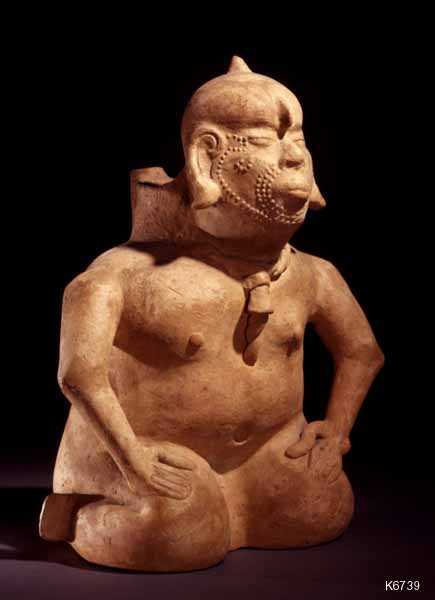 K 6739 - Veracruz Shaman
Veracruz. clay. height 34.2 cm. Seated figure with hands on knees. A shaman indicated by the tuft of hair. He wears a twisted cloth or rope around his neck and there are scars around his mouth and on his cheeks. Made in the form of a vessel with spout in back.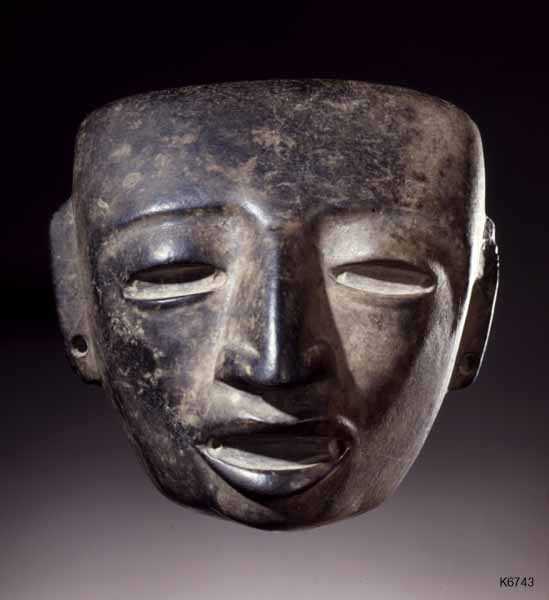 K 6743 - Teotihuacán Mask
Teotihuacán. gray green stone. height 14.7 cm. Mask.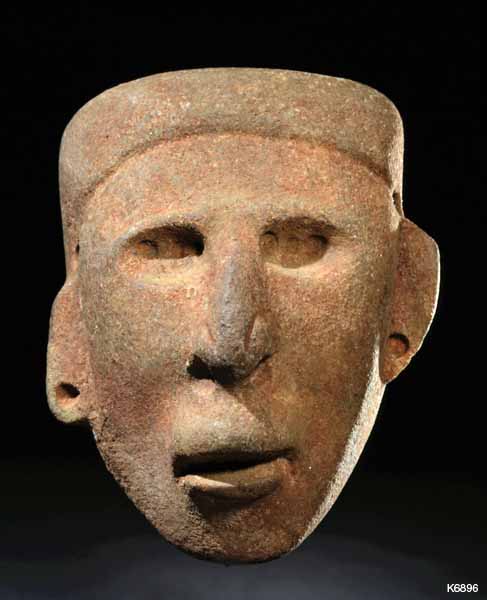 K 6896 - Aztec Stone Mask
Portrait mask possibly worn during ceremony. height 16.51cm
K 7082 - Western Mexico, Colima Warrior
Western Mexico, Colima. clay with firing marks. height 35.5 cm. Warrior with spear and shield.
So...how many people 'types' do the ancient Americans have to record,
before we all get our heads out of Egypts,
lying MASONIC arse, and face the truth...
Egypt is neither mentioned nor described in The Bible,
but Mizraim fits the Americas...
and from there, the rest of the Bible makes clear sence,
and the lies (and the reasons for them)...
stand out like...
Poisonous Sth. American Frogs,
a plague of which would be a curse and not just bloody anoying.
ANCIENT EGYPT AND AMERICAN CONNECTIONS
Burrows Cave Photos Philip Coppens
Gold artIfacts from the cave, clearly showing Egyptian or Egyptian inspired marks on the gold.
Burrows Cave: African Gold in Illinois
Egyptian Lost City in the Grand Canyon?
The Decalogue - The Battle Creek Stone
http://images.google.com.au/imgres?imgurl=http://www.crystalinks.com/goldburrows3.jpg&imgrefurl=http://www.crystalinks.com/egyptaustralia.html&h=266&w=489&sz=29&hl=en&sig2=u uJMTqGnboZofujmq8P2pw&start=67&tbnid=ThxVv9U6SgOHm M:&tbnh=71&tbnw=130&ei=oQstRd3PELrmJP-crdMN&prev=/images%3Fq%3Degypt%2Bartifacts%26start%3D60%26ndsp %3D20%26svnum%3D10%26hl%3Den%26lr%3D%26client%3Dfi refox-a%26rls%3Dorg.mozilla:en-US
fficial%26sa%3DN
http://www.iol.co.za/index.php?set_id=1&click_id=588&art_id=qw116008416 2985B252
Early calendar found in monolith
October 06 2006 at 12:41PM
By Mark Stevenson
Researchers said on Thursday they have unearthed what may be one of the earliest calendars in Mesoamerica, a monolithic sculpture that suggests that women held important status roles in pre-Hispanic culture.
The massive stone sculpture depicts two decapitated women with streams of blood or water flowing from their necks. Markings around the sides of these figures appear to depict a 13-month lunar calendar, said archaeologist Guillermo Ahuja, who led the discovery of the monument.
"This would be the first depiction of a calendar or calendar elements in such an early time period," Ahuja said.
Predates early Mayan calendars by hundreds of years
Luciano Cedillo, director of Mexico's National Institute of Anthropology and History - which employs Ahuja - called the find "important and surprising."
The monolith, which measures more than 8 meters (yards) and weighs about 20 tons, was found in March 2005 by construction workers at the Tantoc ruins in San Luis Potosi state, near Mexico's northern Gulf coast.
It was carved sometime around 700 BC, likely by the Huasteco culture and possibly predates early Mayan calendars by hundreds of years, Ahuja said.
That theory has not yet been proven or published in scientific journals. Though Mayan calendar calculations reach far back in time, the physical calendars themselves are not nearly as old.
The lunar calendar has frequently been associated with female figures. The site where the stone was found was also a sacred area and burial ground for 14 females, whose pottery grave offerings depicted women.
Blood or water flows from the necks of the two women
"This suggest that women played very important roles, not only as priestesses, but politically as well," Ahuja said.
In many pre-Hispanic cultures, prisoners of war or sacrificial victims were often decapitated or flayed. Most depictions show males, but some cultures depicted decapitated females as a symbol of fertility.
The blood or water flows from the necks of the two women in all directions, and into the belly button of a third, central figure depicted as an almost skeletal figure, neither male nor female.
The announcement came four days after archaeologists in Mexico City discovered a smaller monolith near Mexico City's main square, but the sculpture on that monument cannot yet be read because much of the stone remains buried.
The smaller monolith - it measures about 3,5 meters (yards) on its longest side - was probably erected in the closing years of the Aztec empire, between 1502 and 1521, when the Spaniards conquered Mexico.
Cedillo said the earth covering the stone could be removed by sometime next week, at which point experts could examine and evaluate the carvings, which some researchers believe could be dedicated to Tlaloc, a rain god.
Tlaloc is also depicted on one of two small altars discovered near the monolith in Mexico City's Templo Mayor ruins, the main worship site for the Aztecs, who founded the city in 1325. The other altar depicts a minor deity, possibly related to farming. - Sapa-AP
http://www.hermitagemuseum.org/html_En/04/b2003/hm4_1_34_4.html
Bell in the Form of an Eagle Warrior
Aztecs. Unknown origin
Gold
State Hermitage Museum, St. Petersburg
The bell pendant is made in the form of a halfman-halfeagle. The hollow body of the pendant has the form of a pear with a copper bead within. At even a slight movement, the bead strikes against the walls and rings. That is why such pendants are called bells. The two halves of the eagle beak make sort of a helmet in which one can see a stern-looking face with well-shaped, though tiny, features. The ears have big round inserts; the helmet is surmounted by a feather decoration. Master put an oval pectoral on the warrior's breast. In real life such decorations were worn on a rope whose knotted ends are depicted on the figure's back. One of the warrior's feather-covered hands holds a scepter, the other, three javelins and a small round shield. The scepter and shield are also decorated with feathers. Eagle talons can be seen in the figure bottom. The composition is enclosed within a rectangular frame made of wave-like lines. Two big loops at the head back show that the bell was worn on a chain or rope. Many details of this pendant give the impression of golden wires soldered to the surface, however, the whole bell is made in the lost wax technique, common for Mexico. Sometimes because of the deceptive resemblance of such details to separate wires they are called false filigree. The idea of such decorations most probably came to Aztecs from Mixtecs who had renowned goldsmiths. Mixtec pendants resembling the Hermitage bell are known. After the Aztec takeover, Mixtec craftsmen went on working, creating masterpieces for their new overlords.
Images of warriors in the attire of an eagle or jaguar, sometimes of a snake, frequently occur in Aztec art. Full-size terracotta figures of eagle warriors from the Central Temple of Mexico City are among the most outstanding monuments. Chroniclers mention unions of eagle warriors whose members were representatives of Aztec aristocratic families. They may have worn such golden bells on their breast. Only one such pendant is known now. The Hermitage artifact is unique also because very few Mexican golden products have survived. People in this area learnt to work with metals not long before the conquistadors' advent and after they arrived they melted hosts of golden artifacts.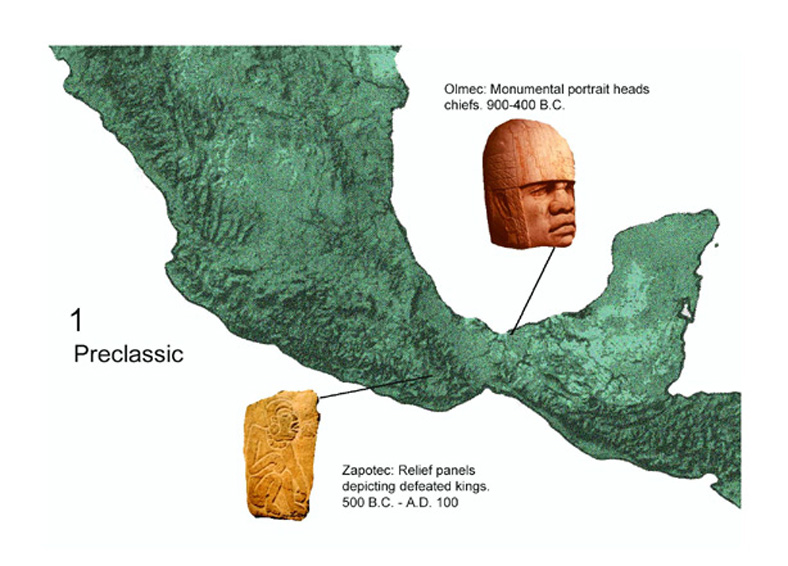 Quiriguá Stela E is typical of Maya monuments that emphasize the institution of divine kingship over the glorification of individual personality. Symbols displayed in lavish ritual dress signify the generations of royal ancestors and gods from whom this lord claimed descent
client%3Dfirefox-a%26rls%3Dorg.mozilla:en-US
fficial%26sa%3DN