| | |
| --- | --- |
| An Interesting Take ON Hurricane "Rita" Off Liberty Forum. Have A Giz Matey's... | |
09-28-2005, 08:27 AM
Senior Member

Join Date: Jan 2005

Posts: 2,768
An Interesting Take ON Hurricane "Rita" Off Liberty Forum. Have A Giz Matey's...
---
Quote:
It doesn't take a weatherman...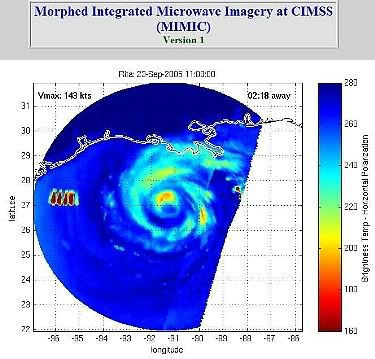 See those red fingers on the left of the radar? Now whose might those be?

A seeming grid-pattern of five heat signatures appear out of nothing to the west of Hurricane Rita, intensify and hold their positions, and then fade to nothing. Their appearance coincided with the storm's unexpected turn away from Houston to track north before making landfall.

This is Kent Steadman's capture:





The complete radar may be viewed at...

http://cimss.ssec.wisc.edu/tropic/real-time/marti/2005_EIGHTEEN/webManager/basicGifDisplay48.html

Not that a viewing alone can tell us what we're seeing. But the question - What are we seeing? - is being asked on a number of sites and forums today, including Steadman's CyberspaceOrbit, GLP, psiwars.net and the RI discussion board.

From one comment on CyberspaceOrbit:

kent, whatever those 5 spots are, they definitely are not an artifact and they are the cause of rita turning north a few miles ahead of schedule. they seem to be directed from corpus christi. my presumption is that they are ships. we have high powered microwave weapons , ship mounted, in the 90-110 GHZ range which overlaps the radar freq. used in the animation. i worked on the first ones in 1983. contract was NSG through DOD. they heat a thin surface layer of any watery target (like raindrops-though that wasnt the original intent) they are aiming UP toward top of rita. you found a definite "something"

Nearly a year ago I asked, "If the United States military is determined to 'own the weather,' what would the test of an environmental weapons system look like?" I suppose it might look something like this. But I'm not a weatherman, and despite what the song says, maybe in such an instance it would be beneficial to be one. Because to me this appears to be anomalous and artificial, but that's all I can talk about with confidence - the impression it leaves with me - and that's neither satisfying to me nor helpful to you. I can't presume to know without being a better student of extreme weather and meteorological radar. But I'm not going to become one this afternoon, and damn it, this does look strange.

I'll welcome an education from those of you who have more than a gut feeling to go by here. Because pure speculation, as many seemingly pure things turn out to be, is virtually useless to me.
Some replys...
Quote:
I've been watching different radar types for years and years. I would almost call myself an amature weatherman. I've NEVER seen anything even slightly like this.
I have seen some odd and bizzare things, streaks and blips and echoes and artifacts of all kinds, but never five similar somethings at the same time. And put them right in Rita's path, a path that begins to change at exactly the same time as the five strange things, and the five strange things are absolutely motionless, and this is something like I've never seen.
I've been watching radar online for years and years, both at home and for work where I do the weather every day I work.
I've saved the files and will be sharing them with some local meterologists this week.
Did anyone also notice the odd curved arc image after Rita has gone ashore and stalled? It looks for all the world like a wall was put up to stop or slow it.
Quote:
You are sitting on a hot story here - that is being looked at in more detail. I contacted a person who is very knowlegable on the weather and has been tracking hurricanes for a long time. This person frequents the related websites. With regard to those anomalies, he said:

"I'd seen the ending with the red line shooting through the storm but I didn't get to see the beginning of the run with the blips on the left side. Interesting because the red streak was brought up on the hurricane city board within an hour or so after it happened. There are several professional meteorologists who post on that board so someone asked them what it was.

The 'official' statement was a cold front cutting through the top (northern) part of Rita and not to be concerned about it.

Another poster stated at that point that cold fronts do not cut through hurricanes and even if they did the color would have been blue because of the colder winds associated with a 'cold front'. Note: The colors on this radar shot both the blips at the start and the long line which suddenly appears, crosses the entire storm, then fades out is tremendously hot (red colors = high heat).

The pro met said again, it's none of your business because you are not a professional so leave my explanation alone.

At that point one of the lady posters said that it looked like a missle being fired through the storm. Within a few minutes that thread was history and still is today. I've only seen posts deleted if someone asked for it to be and that is rare.

Next:

Here is a link to the noaa aircraft recon flights for the entire process of Rita:
Link

The interesting thing here is, the storm carried the same track basically throughout the history across the gulf of Mexico only varying a degree either left or right of the center track. (one degree = 30 miles). Even at 3 hours away from landfall Rita was still tracking towards the Houston/Beaumont area.

However on the last recon advisory, the track suddenly shifted right from 29.3 deg lat to 30.3 deg lat which is roughly 30 miles then at landfall it shifted again another 0.7 degrees right. Or another 21 miles for a total shift of 51 miles right of the NHC [National Hurricane Center] forecast path.

I can explain a shift in the direction of a land falling hurricane very easy. As the winds & pressure near land, friction is built up and can go high enough to turn a hurricane right (northern hemisphere would send it right, southern hemisphere sends a storm to the left) but the hurricane would have to have a high forward speed to make a swing like that. Rita was moving very slow, even when approaching land it only gained a few mph faster than the previous speed 50 miles out. There wasn't time for the shift right to occur and not enough forward speed to build up enough friction to turn it in the first place. Something turned that storm in the last three hours.

Now the question would be, why turn it at all? The original track was moving the eye & NE quadrant (most powerful of any hurricane) towards the Houston/Beaumomt area which doesn't contain as many oil and gas wells as the Cameron LA area does. If it hit land at the original forecast the damage would have been civilian mainly, houses, businesses, etc not oil or gas production. However if there was a way to turn Rita into the Sabine Pass, Holly Beach, Hackberry, Cameron area, that would put the strongest part directly in line with the most productive oil drilling/operations in that part of the gulf.

If you looked at the Oil Rig site last night you'd seen there were no oil wells in or near Cameron LA. If you look at the same site tonight you'll see this: Link

Nothing..Page can't be displayed, in other words, it's been removed from the server. Why?

Because there are oil operations in that area that are not talked about in the news."
________

There's more to come on this story.
__________________
[size=medium]\"The Office\" is the greatest comedy...ever. [/size]
09-28-2005, 09:02 AM
Re: An Interesting Take ON Hurricane "Rita" Off Liberty Forum. Have A Giz Matey's...
---
When Rita made her turn, weathermen were reporting that "their" computer models did not project this.

One even had tape on his weather board showing the path that was predicted and ripped it off in what appeared to be disgust.
| | |
| --- | --- |
| Posting Rules | |
All times are GMT -6. The time now is
05:38 PM
.
Powered by vBulletin® Version 3.6.12
Copyright ©2000 - 2018, Jelsoft Enterprises Ltd.
© 2006 - 2016 Club Conspiracy Forums |
About Club Conspiracy Forums
|
Advertisers
|
Investors
|
Legal
|
A member of the Crowdgather Forum Community