| | |
| --- | --- |
| MIND CONTROL AND THE MUSIC INDUSTRY | |
03-18-2014, 08:19 AM
Senior Member

Join Date: Sep 2005

Posts: 2,263
Re: MIND CONTROL AND THE MUSIC INDUSTRY
---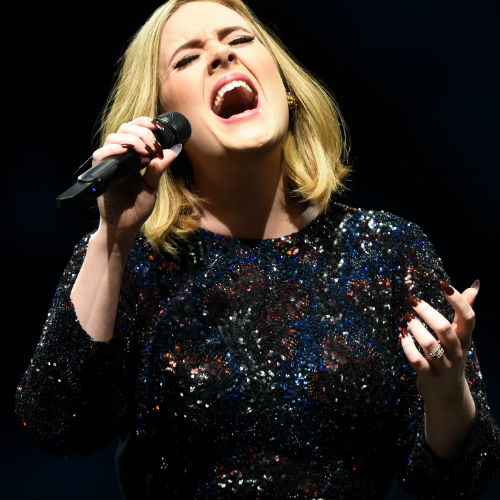 Adele
https://en.m.wikipedia.org/wiki/Adele
Adele Laurie Blue Adkins[1]*MBE*(born 5 May 1988), widely known with the*mononym*Adele, is an English singer, songwriter, musician, and*multi-instrumentalist. Adele was offered a recording contract from*XL Recordings*after a friend posted her demo on*Myspace*in 2006. The next year she received the*Brit Awards*"Critics' Choice" award and won the*BBC*Sound of 2008. Her debut album,*19, was released in 2008 to commercial and critical success. It certified four times platinum in the UK, and double platinum in the US.[2][3]*Her career in the US was boosted by a*Saturday Night Liveappearance in late 2008. At the*2009 Grammy Awards, Adele received the awards for*Best New Artist*and*Best Female Pop Vocal Performance.[4]Adele released her second album,*21, in early 2011.[5][6]*The album was well received critically and surpassed the success of her début,[7]*earning the singer six*Grammy Awards*in 2012 including*Album of the Year, equalling the record for most*Grammy Awards won by a female artist in one night.[8]*The album has also led to her*receiving numerous other awards, including two*Brit Awards*and threeAmerican Music Awards. The album has been certified 16 times platinum in the UK;[2]*in the US the album has held the top position longer than any other album since 1985, and is*certified Diamond.[9][10][11]*According to the*IFPI, the album has sold over 26 million copies worldwide.[12]The success of*21*earned Adele numerous mentions in the*Guinness World Records. She is the first artist to sell more than 3 million copies of an album in a year in the UK.[13]*With her two albums and the first two singles from*21, "Rolling in the Deep" and "Someone Like You", she became the first living artist to achieve the feat of having two top-five hits in both the UK Official Singles Chart and the Official Albums Chart simultaneously since*The Beatles*in 1964.[14]With her third release from the album, "Set Fire to the Rain", which became her third number one single in the US, Adele became the first artist in history to lead the*Billboard*200 concurrently with three*BillboardHot 100 number-ones.[15]Adele is the first female in the history of the*BillboardHot 100 to have three singles in the top 10 at the same time as a lead artist, and the first female artist to have two albums in the top five of the*Billboard200 and two singles in the top five of the*BillboardHot 100 simultaneously.[16]*21*is the longest running number one album by a female solo artist on the UK and US Albums Chart.[17][18]*In 2011 and 2012,Billboard*named Adele Artist of the Year.[19][20]*In 2012, Adele was listed at number five on*VH1's 100 Greatest Women in Music,[21]*and the American magazine*Time*named Adele one of the most influential people in the world.[22]*In 2013, she received an*Academy Award*as well as a*Golden Globe Award for Best Original Song*for her song "Skyfall", written for the twenty-third*James Bond film*of the same name.[23]
Early Life
Adele Laurie Blue Adkins was born in*Tottenham, north London, England, to Penny Adkins, an English teenager, and Mark Evans, a Welshman, on 5 May 1988. Evans walked out when Adele was two, leaving her 20-year-old mother to raise her single-handedly,[24]*for which Adele has still not forgiven him.[25][26]*She began singing at age four and asserts that she became obsessed with voices.[27][28]*Adele has cited the*Spice Girls*as a major influence in regard to her love and passion for music, stating that "they made me what I am today."[29]*Adele impersonated the Spice Girls at dinner parties as a young girl.[30]*To make her look like English R&B and urban contemporary singer*Gabrielle, her mother made an eye patch with sequins, which Adele later said was embarrassing.[31]*At the age of nine, Adele and her mother, a furniture-maker and adult learning activities organiser, relocated to*Brighton.[32]Two years later, she and her mother moved back to London; first to*Brixton, and then to neighbouring district*West Norwood, in south London.[33]*West Norwood is the subject for Adele's first record, "Hometown Glory", written when she was 16.[34]*After moving to south London, she became interested inR&B*artists such as*Aaliyah,*Destiny's Child*andMary J. Blige.[35]Adele says that one of the most defining moments in her life was when she watched*Pink*perform atBrixton Academy. "It was the*Missundaztood*record, so I was about 13 or 14. I had never heard, being in the room, someone sing like that live [...] I remember sort of feeling like I was in a*wind tunnel, her voice just hitting me. It was incredible."[36][37]Aged 14, Adele discovered*Etta James*and*Ella Fitzgerald*by accident as she stumbled on the artists' CDs in the jazz section of her local music store and was struck by their appearance on the album covers.[34]*Adele states she "started listening to Etta James every night for an hour", and in the process was getting "to know my own voice."[34]*Adele graduated from the*BRIT School for Performing Arts & Technology*in Croydon in May 2006,[38]*where she was a classmate of*Leona Lewis*and*Jessie J.[1][39]Adele credits the school with nurturing her talent[40]even though at the time she was more interested in going into*A&R*and hoped to launch other people's careers.[1]
--------
The 2012 Grammy Awards took place in a horrible context:*the wake of the sudden, mysterious death of Whitney Houston.*The show went on nevertheless … but not without a great deal of strange symbols and events that made one thing very clear: There is a definite dark side to the entertainment business. We will look at the facts surrounding Whitney Houston's death, the symbolic elements of the 2012 Grammy Awards (including Nikki Minaj's ritualistic performance) and see how the ceremony turned into another mega-ritual.
Quote:
I had a feeling that in 2012 the occult agenda of the entertainment industry would be kicked in high gear. I was right: In the span of a week, the most important night in sports (the Superbowl – see the article about it*here) and music (the Grammys) were infused with ritualistic elements witnessed by millions of viewers. While the Superbowl half-time show lasted only 13 minutes, the ritual surrounding the Grammys lasted for days and its aftermath is still going on as odd facts and accounts regarding Whitney Houston continue to surface in the media.This article will list several facts and events that took place before, during and after the Grammy Awards that have a symbolic significance in the grand scheme of things. While some of the facts mentioned here might have been the result of coincidence or poor timing, they still came together in one big, classic case of*synchronicity. In other words, apparent coincidences sometimes reveal an underlying pattern behind events."Carl Jung described synchronicity as " the experience of two or more events that are apparently causally unrelated or unlikely to occur together by chance and that are observed to occur together in a meaningful manner. Synchronistic events reveal an underlying pattern, a conceptual framework that encompasses, but is larger than, any of the systems that display the synchronicity. Concurrent events that first appear to be coincidental but later turn out to be causally related are termed incoincident."When we look at the facts and the occurrences surrounding Whitney Houston's death coupled with the symbolic elements of the 2012 Grammy awards, the entire "event" has the looks of an occult ritual, complete with a blood sacrifice, a celebration and even a "re-birth". Some of the things described below were pre-planned, while others were possibly just odd coincidences. However, the overwhelming and almost palpable energy emanating from the 2012 Grammys definitely made some things align in a synchronistic fashion. Let's look at the most significant events that happened during that fateful weekend.
http://vigilantcitizen.com/musicbusi...s-mega-ritual/
Strange Facts Surrounding Whitney Houston's Death


Quote:
If you read other articles on this site, you probably noticed that everything surrounding Whitney Houston's is astonishingly on-par with other celebrity "sacrifices". Accounts of strange events before the death, bizarre behavior of the authorities when the death was discovered, conflicting reports, vagueness surrounding the cause of the death and, to top it off, a worrying "response" from the music industry through the Grammys. Her case followed the same pattern as several other celebrity deaths that were blamed on drugs* despite many conflicting reports. As it was the case for these other celebrities, the media almost automatically launched a campaign depicting Whitney as a hopeless drug addict. Maybe she was a drug addict, but that might only be the tip of the iceberg … a symptom of the true illness that killed Whitney: the music business.

Strange Events

As in the cases of Michael Jackson, Amy Winehouse, Heath Ledger, Brittany Murphy and many others, bizarre events preceded and followed the death of Whitney Houston. After reviewing all of those accounts, one cannot help but wonder: Was Whitney's death truly an accident or was it a deliberate sacrifice planned by "unseen forces"? While most media reports drum into people's heads that "Whitney Houston = Drugs", some sources reveal other details that might lead to other paths of thinking. Here's Roger Friedman's account of things that happened at the Beverly Hilton on February 11th:

Whitney's Death: An Earlier Incident?

Whitney Houston's death made for a long day's journey into night at the Beverly Hilton. While the Clive Davis Grammy dinner had to proceed downstairs in the ballroom–with 800 guests already filing in as the news was breaking–Whitney remained in state, so to speak, in her fourth floor suite. She was not removed until just moments before the party ended–a little after midnight. She'd been in the suite, discovered in her bathtub. But there were many people in the suite when this happened at 3:50pm including her daughter Bobbi Kristina, her brother Gary, sister in law Pat Houston, and another player in this story — a nightlife friend who'd been guiding her around town the last few days as she was photographed in states of duress.What you don't know is that around 11pm, paramedics were called back to the fourth floor. Security and police raced back to the 4th floor. A medical wheelchair with restraints was brought in through the back entrance to the hotel. Bobbi Kristina "freaked out"–well, she'd been upstairs for hours with her mother's dead body in the next room. It was understandable. The paramedics thought they were going to to have to take her to the hospital. But calm was restored. For ten minutes, though, security cleared the entire lobby of the hotel while the concert was going on inside the ballroom. I was out there at that moment, and it was one of the strangest scenes ever.Then there's the mysterious story of a leak that occurred the night before from Whitney's group of suites. A man on the third floor right underneath Houston's suite suddenly experienced water cascading into his bathroom from above at 2:30am. It wasn't just a trickle. The man called security, then went upstairs to the fourth floor to see what was going on. He swears to me that it was Whitney's bathtub that was overflowing. He also says that a flat screen television had been been broken–the screen was smashed. My sources at the hotel say there was*a "leak" but that it wasn't from Whitney's room. "They [her group] have a lot of rooms up there," says the hotel source. My source, this man, insists that he was told it was Whitney Houston's room. It does seem to have been part of her group of rooms.
The Number 11


Quote:
When dealing with occult rituals, numerology takes on a primordial importance. In the case of Whitney Houston, the number 11 is definitely a factor. In elite occult circles, the number 11 is a "master number" (it cannot be reduced) and, because it exceeds the number 10 (the number of perfection) by 1, it is usually associated with bad foreboding and black magic. Qabbalists associate the number 11 with transgression of the law, rebellion, war, sin, sorcery and martyrdom.For this reason, the occult elite often associates mega-rituals involving sacrifice with the number 11. What was the massive mega-ritual of the modern times? September 11th – involving the Twin Towers. At what exact time do we "remember" WWI soldiers who sacrificed their lives for their rulers? At the eleventh hour of the eleventh day of the eleventh month – Veterans Day, aka Remembrance Day.Going further than the date of her death, another link associates Whitney and her death with Lady Gaga and previous Grammy awards. As some know, Lady Gaga had close ties with fashion designer Alexander McQueen, who was no stranger to occult and mind control symbolism in his work. McQueen died on February 11th, 2010.During the 2011 Grammy Awards, Gaga stated about her song "Born This Way":"I need to thank Whitney Houston. I wanted to thank Whitney, because when I wrote 'Born this Way,' I imagined she was singing it – because I wasn't secure enough in myself to imagine I was a superstar. So, Whitney, I imagined you were singing 'Born This Way' when I wrote it.""Born This Way" was released on February 11th, 2011. Exactly one year later, Whitney Houston dies on February 11th, 2012. Did Gaga (or her handlers) know something that the rest of us didn't? Her outfit evidently shows that death was on her mind. Another little fact: Whitney's room number was 434 – which in Qabbalistic numerology equals 11 (4+3+4).
Statements from Industry Veterans


Quote:
Who is better placed than artists who have worked in the music industry for years to provide insightful takes on the death of Whitney Houston? They obviously do not hold the ultimate truth and they might just be trying to make sense of things like the rest of us, but they have first -and experience when it comes to the workings of the music industry.During an interview on Good Morning America, industry giant Celine Dion bluntly blamed the "bad influence" of show business for Whitney's death. She even stated that you "have to be afraid" of show business."It's just really unfortunate that drugs, bad people or bad influence took over. It took over her dreams.* It took over her love and motherhood. When you think about Elvis Presley and Marilyn Monroe and Michael Jackson and Amy Winehouse, to get into drugs like that, for whatever reason. Is it because of the stress and bad influence? What happens when you have everything? What happens when you have love, support, the family, motherhood? You have responsibilities of a mother and then something happens and it destroys everything. That's why I don't do parties and I don't hang out. That's why I'm not part of show business. We have to be afraid. I've always said you have to have fun and do music and you can never be part of show business because you don't what it's going to get yourself into. You have to do your work and get out of there."- Source: Vancouver SunIs Celine Dion's avoidance of show business the reason she manages to be relatively scandal-free?Another legendary diva, Chaka Khan, was even more direct when explaining the true cause of Whitney's death. During an interview with Piers Morgan, she stated:"I think we all, as artists, because we're highly sensitive people, and this machine around us, this so-called 'music industry,' is such a demonic thing. It's sacrifices people's lives and their essences at the drop of a dime … I had a manager once say to me, ' You know you're worth more money dead than alive.'I mean, I've cried for her, a lot over the years, so many times. In a way I've mourned her, because I felt something was gonna happen because she was so close to the wire."- Source:*EonlineWas Chaka Khan exaggerating when using the terms "demonic" and "sacrifice" when describing the music industry? Judging by the symbolism found at the Grammy awards, she was probably right on the dot.
---
Last edited by redrat11 : 03-25-2014 at

08:21 AM

.
03-25-2014, 09:10 PM
Senior Member

Join Date: Sep 2005

Posts: 2,263
Re: MIND CONTROL AND THE MUSIC INDUSTRY
---
US jazz musicians were drafted into the CIA's MKULTRA
Mar
24
by Jon Rappoport
US Jazz musicians were drafted into CIA's MKULTRA

by Jon Rappoport

March 24, 2014

www.nomorefakenews.com

Here is a bit of US history that shows the reach of the CIA's infamous mind-control program, MKULTRA.
During the 1940s and 50s, it was common knowledge that musicians who were busted for drug use were shipped, or volunteered to go, to Lexington, Kentucky. Lex was the first Narcotics Farm and US Health Dept. drug treatment hospital in the US.
According to diverse sources, here's a partial list of the reported "hundreds" of jazz musicians who went to Lex: Red Rodney, Sonny Rollins, Chet Baker, Sonny Stitt, Howard McGhee, Elvin Jones, Zoot Sims, Lee Morgan, Tadd Dameron, Stan Levey, Jackie McLean.
It's also reported that Ray Charles was there, and William Burroughs, Peter Lorre, and Sammy Davis, Jr.
It was supposed to be a rehab center. A place for drying out.
But it was something else too. Lex was used by the CIA as one of its MKULTRA centers for experimentation on inmates.
The doctor in charge of this mind control program was Harris Isbell. Ironically, Isbell was, at the same time, a member of the FDA's Advisory Committee on the Abuse of Depressant and Stimulant Drugs.
Isbell gave LSD and other psychedelics to inmates at Lex.
At Sandoz labs in Switzerland, Dr. Albert Hofmann, the discoverer of LSD, also synthesized psilocybin from magic mushrooms. The CIA got some of this new synthetic from Hofmann and gave it to Isbell so he could try it out on inmates at Lex.
MKULTRA was a CIA program whose goal was to control minds…in part through the use of drugs.
Isbell worked at Lex from the 1940s through 1963. It is reported that in one experiment, Isbell gave LSD to 7 inmates for 77 consecutive days. At 4 times the normal dosage. That is a chemical hammer of incredible proportions.
To induce inmates to join this drug experiment, they were offered the drug of their choice, which in many cases was heroin. So at a facility dedicated to drying out and rehabbing addicts, addicts were subjected to MKULTRA experiments and THEN a re-establishment of their former habit.
Apparently as many as 800 different drugs were sent to Isbell by the CIA or CIA fronts to use on patients at Lex. Two of the fronts? The US Navy and the US National Institute of Mental Health.
In another MKULTRA experiment at Lex, nine men were strapped down on tables. They were injected with psilocybin. Lights were beamed at their eyes–a typical mind control component.
During Isbell's tenure, no one knows how many separate experiments he ran on the inmates. No one knows what other mind-control programming he attempted to insert along with the drugs.
As I say, Lex was the main stop for drying out for NY jazz musicians. How many of them were taken into these MKULTRA programs?
As Martin Lee explains in his book, Acid Dreams, "It became an open secret…that if the [heroin] supply got tight [on the street], you could always commit yourself to Lexington, where heroin and morphine were doled out as payment if you volunteered for Isbell's whacky drug experiments. (Small wonder Lexington had a return rate of 90%.)"
A June 15, 1999, Counterpunch article by Alexander Cockburn and Jeffrey St. Clair, "CIA's Sidney Gottlieb: Pusher, Assassin & Pimp— US Official Poisoner Dies," contains these quotes on Dr. Isbell:
"Gottlieb also funded the experiments of Dr. Harris Isbell. Isbell ran the Center for Addiction Research in Lexington, Kentucky. Passing through Isbell's center was a captive group of human guinea pigs in the form of a steady stream of black heroin addicts. More than 800 different chemical compounds were shipped from Gottlieb to Lexington for testing on Isbell's patients.
"Perhaps the most infamous experiment came when Isbell gave LSD to seven black men for seventy-seven straight days. Isbell's research notes indicates that he gave the men 'quadruple' the 'normal' dosages. The doctor marveled at the men's apparent tolerance to these remarkable amounts of LSD. Isbell wrote in his notes that 'this type of behavior is to be expected in patients of this type.'
"In other Gottlieb-funded experiment at the Center, Isbell had nine black males strapped to tables, injected them with psylocybin, inserted rectal thermometers, had lights shown in their eyes to measure pupil dilation and had their joints whacked to test neural reactions."
---
Last edited by redrat11 : 03-25-2014 at

09:14 PM

.
| | |
| --- | --- |
| Posting Rules | |
All times are GMT -6. The time now is
11:23 AM
.
Powered by vBulletin® Version 3.6.12
Copyright ©2000 - 2015, Jelsoft Enterprises Ltd.