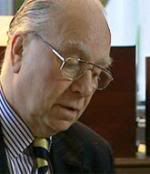 Former Belgian Prime Minister during a debate on Flemish television (27 Jan 2008):
Quote:
Well, I agree and the ideal solution would be to form an international police state, an international army, that possesses the most advanced weapons, nuclear weapons included, that is capable of intervening military against countries that don't want to abide by the rules.
But then, right now it is wishful thinking. Maybe during the course of the 21st century. We'll see. I hope so.
Source:
http://technologybb.com/showthread.php?t=351